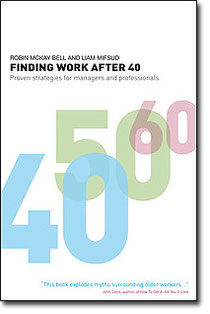 FINDING WORK AFTER 40
Proven Strategies for Managers and Professionals
by Robin McKay Bell & Liam Mifsud
Published by Bloomsbury, 2011

The textbook will help you get the most out of the sessions, and it will serve as a handy reference in future.
Robin McKay Bell and Liam Mifsud provide expert help for those in their 40s, 50s and 60s who are struggling to find a new job, find a better job, or make a move towards self-employment.

Packed with essential advice distilled from a network of job clubs for the over-45s, Finding Work After 40 will help you create a personal strategy for success and overcome your biggest obstacle: age discrimination.
It's all summed up in the motto: 'Know yourself, sell yourself, network like crazy'. If you're able to do those three things well, your chances of getting back in work (or changing career) are vastly improved.

With this book, you'll learn how to:
discover and understand your key skills (know yourself)
describe yourself persuasively in person and in writing (sell yourself)
network effectively to acquire, develop and maintain useful contacts (network like crazy).
And if finding a job isn't the right answer for you, the self-employment section tells you how to start your own business or even opt for a portfolio career.

Whatever career choice you make, Finding Work After 40 will guide you towards success.
"This book explodes myths surrounding older workers and – by giving a range of practical strategies – boosts confidence for those career changers who worry that their date of birth puts them out of the race."
—John Lees, author of How To Get A Job You'll Love (McGraw-Hill)
"In our book we call them 'the seven elephants in the room' because they're present at every interview, being ignored, but influencing the decision makers. The challenge is to acknowledge and understand each elephant and then respond in a positive way."
—The Guardian (29 April 2011)
 
"A readable, sincere and comprehensive book which will get people back to work."
—Professor Alan Richardson, Chair of Science in Enterprise, The Royal Institution of Great Britain

"…if people read this we will hear fewer stories of desperate individuals making a thousand applications and receiving no job offers."
—Chris Ball, Chief Executive, TAEN – The Age and Employment Network
Buy the textbook at your first session and save P&P – just £10 a copy.
Or you can buy it from Amazon or Bloomsbury.